The Problem with Traditional Cable and Satellite TV
As a bar or restaurant owner, you know that keeping your customers happy and engaged is crucial to the success of your business. But, what do you do during downtime from live sporting events when your customers are left with nothing to watch on TV? This is where Atmosphere comes in - the perfect solution to keeping your guests entertained during these slower times.
For years, businesses have been stuck with traditional cable TV as their best option for keeping their customers entertained. However, this comes with its own set of problems. The soundless or subtitle-driven content is not ideal for a business setting, leaving your guests unengaged and lacking conversation starters.
Atmosphere: The Innovative and Fun Alternative
Atmosphere is a new and innovative audio-optional free monthly streaming TV service designed specifically for businesses. Our short-form, curated content promotes fun and entertainment, and it's perfect for any business setting. With options for everyone, you can choose what suits your unique business setting best.
Laugh at short-form viral videos with ChiveTV, get golf tournament recaps and highlights with PGA Tour, bring smiles to your business with Happy TV. celebrate amazing with Superhuman, or bring sports back to the center with Atmosphere Sports.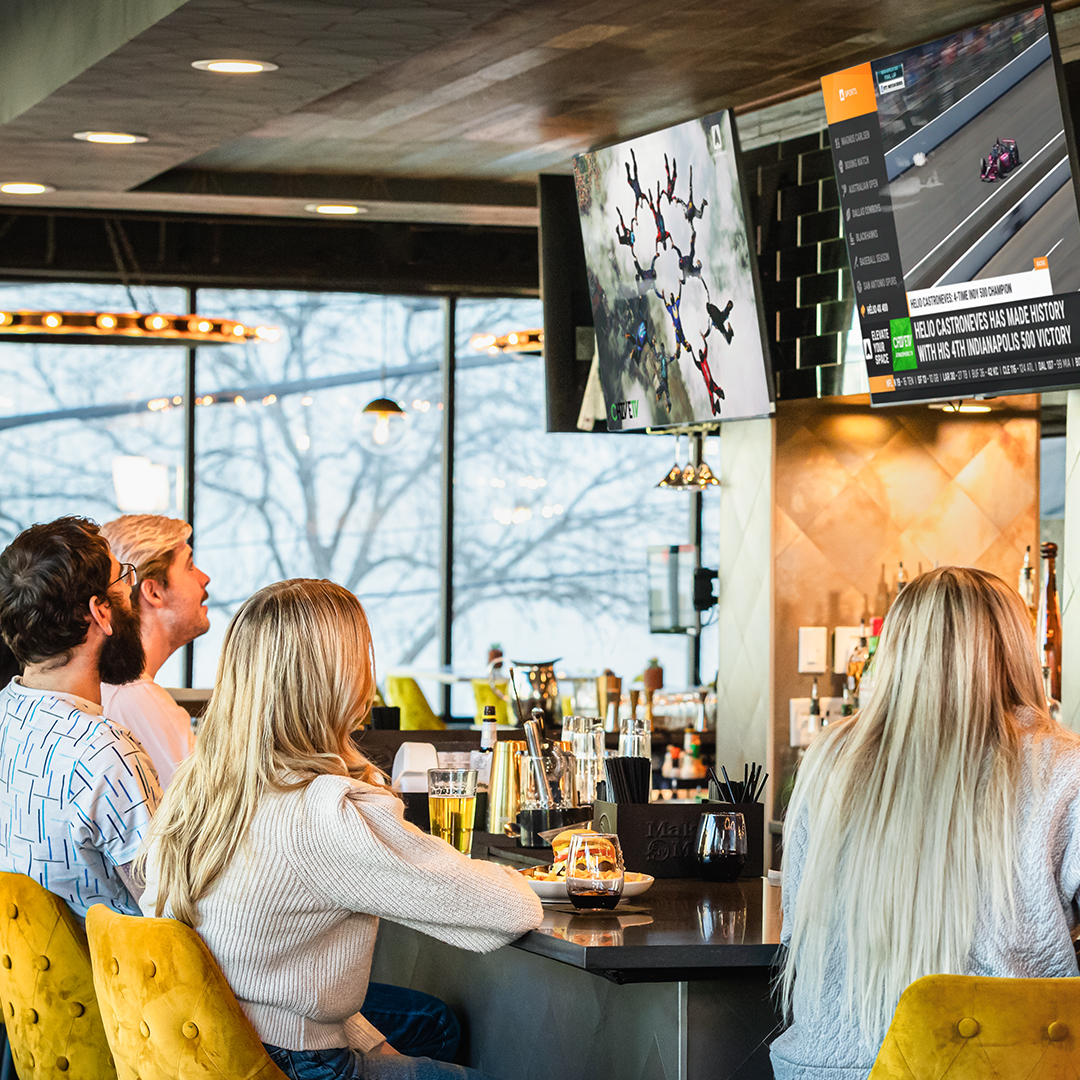 Entertain Your Guests Like Social Media
Our short-form audio-optional content is fun, entertaining, and authentically voiced to help promote conversation among your guests. It's like having social media on your TV but without distractions and negative news.
Benefits of Using Atmosphere
Free monthly streaming TV service for businesses
Curated entertainment meant for every business environment and every audience type
Ability to run your own promotions on the TVs inside your business with AtmosphereAds
Testimonials from Satisfied Customers
"A Great Addition To Our Bar."
"I like the variety of channels to choose from. Trivia is a big hit at the bar. I have also used the advertising aspect to add our own ads for customers to see. The videos make customers laugh and create great discussions." - Jamie W., Restaurant Owner
"Atmosphere helps break awkward moments"
"I like that when the business first opens up and is still a little quiet Atmosphere helps bring interesting and lively content into the business so the environment feels upbeat and welcoming." - Verified G2 Review
No Live Sports. No Problem.
Don't let downtime from sporting events bring down your business. With Atmosphere, you have a fun and innovative alternative to traditional cable TV that will entertain your customers and promote fun conversation. Try Atmosphere today and see for yourself how it can make a night out at your favorite venue an even more enjoyable experience.
Not a customer? Get Atmosphere for your business today. Otherwise, head to the dashboard to create your first promo.