Digital Signage: A Revenue-Driving Marketing Tool
Digital Signage is a revenue-driving marketing tool that helps businesses quickly and easily display marketing messages to drive customer action. This powerful tool offers customizations through predesigned templates based on specific themes, making it easy for businesses to create eye-catching ads.
Get Creative for Happy Hour
The Happy Hour template is perfect for bars and restaurants looking to boost their sales. Businesses can now create eye-catching promotions for their specials and events in seconds. Whether you're promoting your bar's Happy Hour or another initiative, this easy-to-use template offers a wide range of customization options like background color, text, image, and logo to ensure that your message is distinct and visible.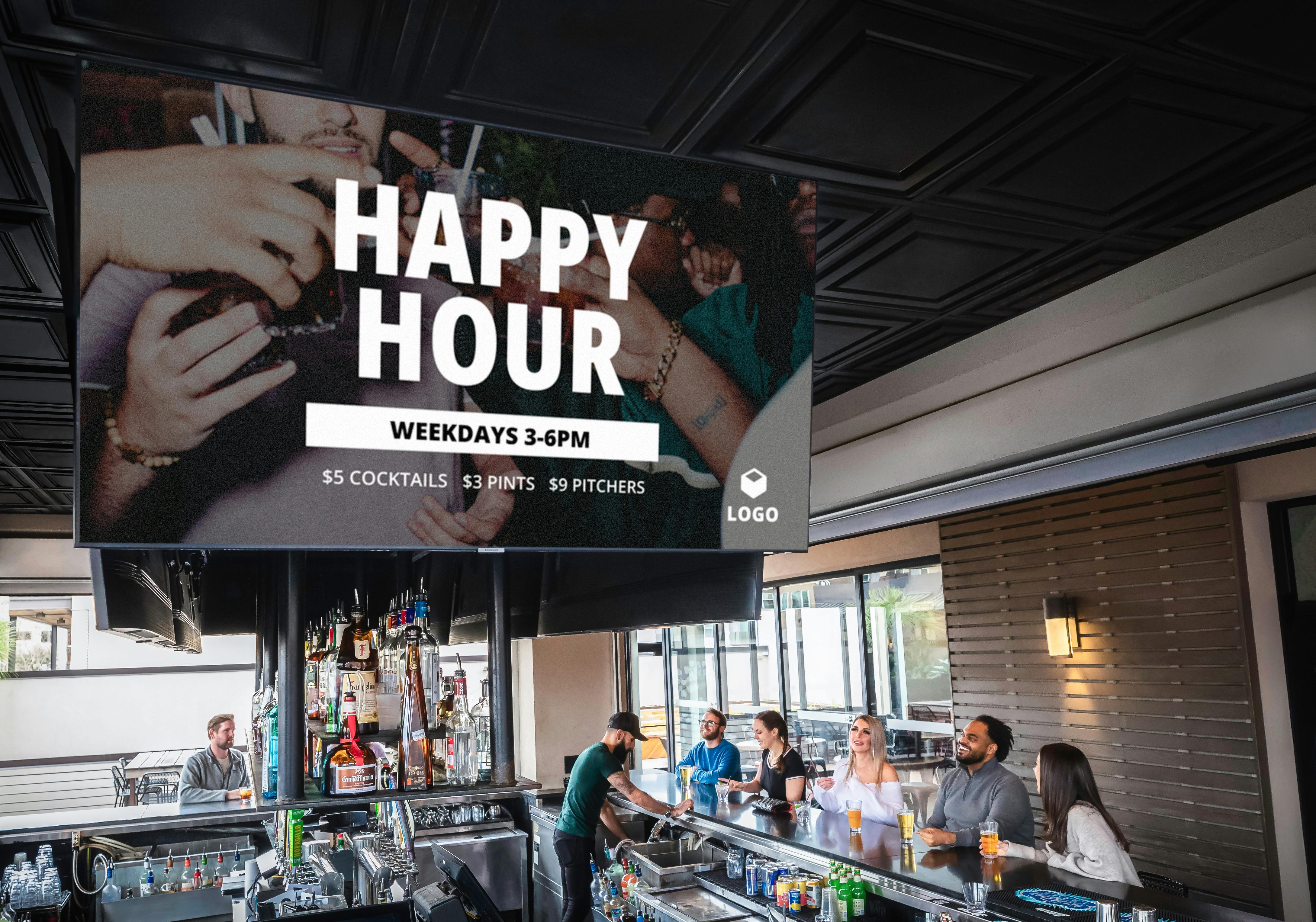 Tips and Tricks
Display your Happy Hour deals and specials during the slowest hours of your business to increase revenue.
Use custom branding to create a unique experience for customers that matches your restaurant's theme or aesthetic.
Highlight the food and beverage deals that you offer to customers during Happy Hour to keep them coming back for more.
Customize Your Trivia Night Promos with Easy-to-Use Template
Want to start running a weekly Trivia Night? There is no better way to easily attract a crowd to your restaurant than with our new Trivia Night template. By utilizing this template, everyone who walks in and out of your location will know where to be on Trivia Night, and you can customize the template to add the colors and logos of your business to keep your ads on brand.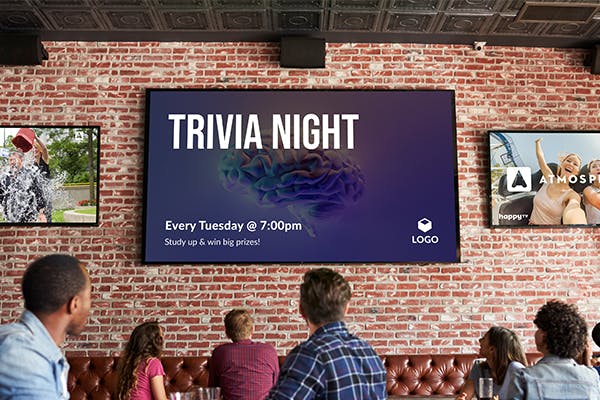 Tips and Tricks
Generate awareness and anticipation leading up to Trivia Night with frequent, consistent messaging.
Provide your customers with the necessary info: address, day of the week, and time.
Promote with consistency and establish the your frequent customers.
Maximize Profits with Digital Signage. Now even easier with customizable templates.
With Digital Signage, you're not only getting Atmosphere, a free monthly streaming service designed to enhance your business, but a free powerful advertising tool that puts your promos in front of the right people, at the right time. Whether you're highlighting upcoming events, advertising drink specials, or promoting employment opportunities, Digital Signage is the ideal medium to help increase your profits.
Not a customer? Get Atmosphere for your business today. Otherwise, head to the dashboard to create your first promo.