In an era where customer engagement is more important than ever before, trivia stands out as a powerful tool to help businesses attract new customers and keep them engaged. This long-time favorite of bars and restaurants around the country, now delivers an exciting twist with Atmosphere's Live Trivia channel. Offering a unique opportunity for businesses to leverage entertainment and technology, this interactive experience gives you a fresh, interactive way to entertain your customers.
A New Wave of Trivia
Atmosphere's interactive trivia game is not just your typical trivia experience. It's a fully immersive and interactive activity that brings the thrill of competition to your TV. Gone are the days when trivia nights meant huddling around a table, pen and paper in hand. With Atmosphere's interactive experience, players can participate easily by scanning a QR code, downloading the Atmosphere Trivia app, and answering questions via their mobile device.
This seamless integration of technology creates an immersive experience that hooks your customers and keeps them coming back for more. Whether you're a restaurant looking to spice up your weeknights, a bar aiming to draw in a new crowd, or a medical facility seeking to create a unique waiting room experience, live trivia is the perfect solution.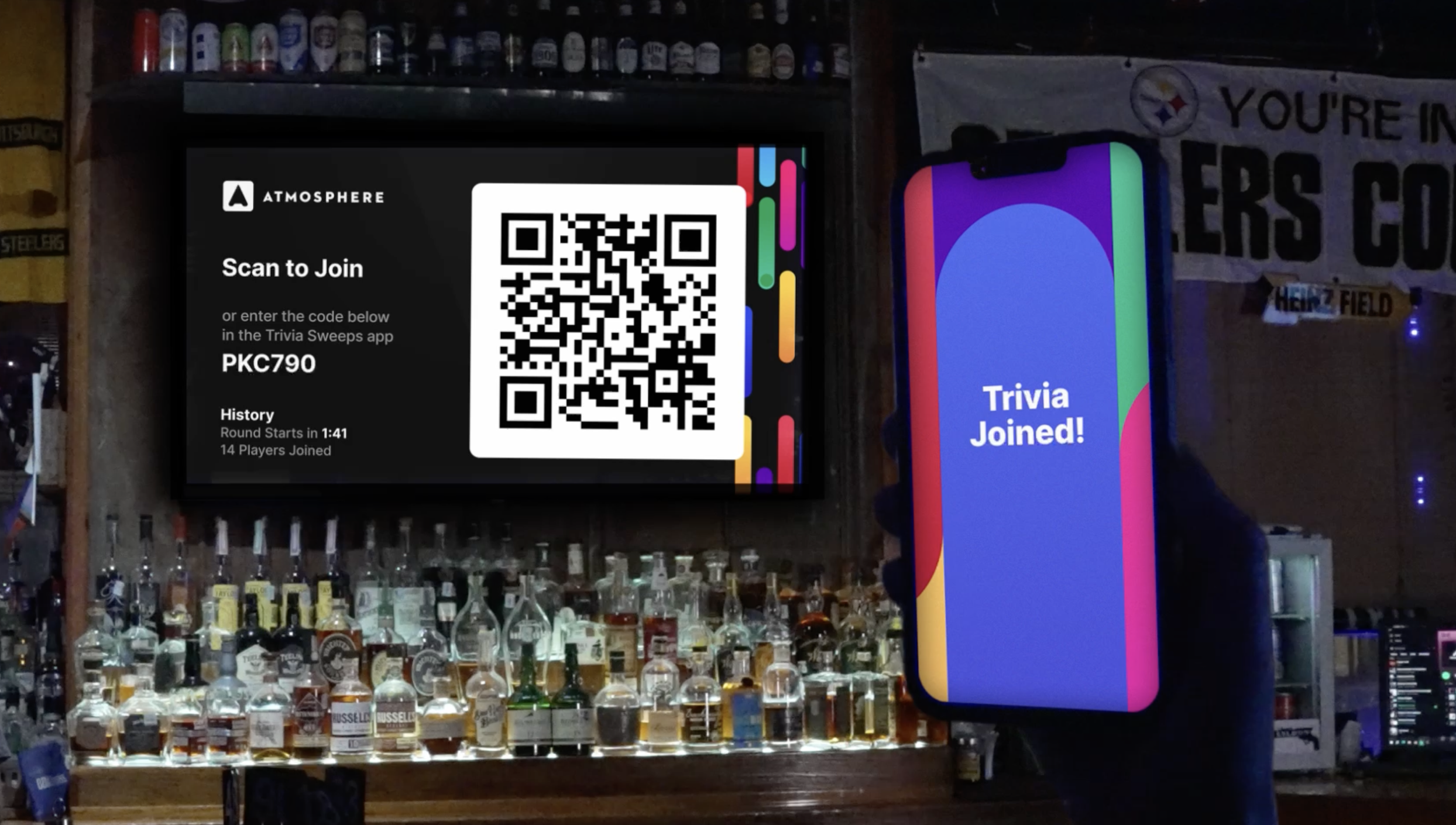 How to Play Trivia in Your Business
Here, we detail two primary ways businesses can use interactive trivia: playing the interactive trivia channel and hosting a trivia night.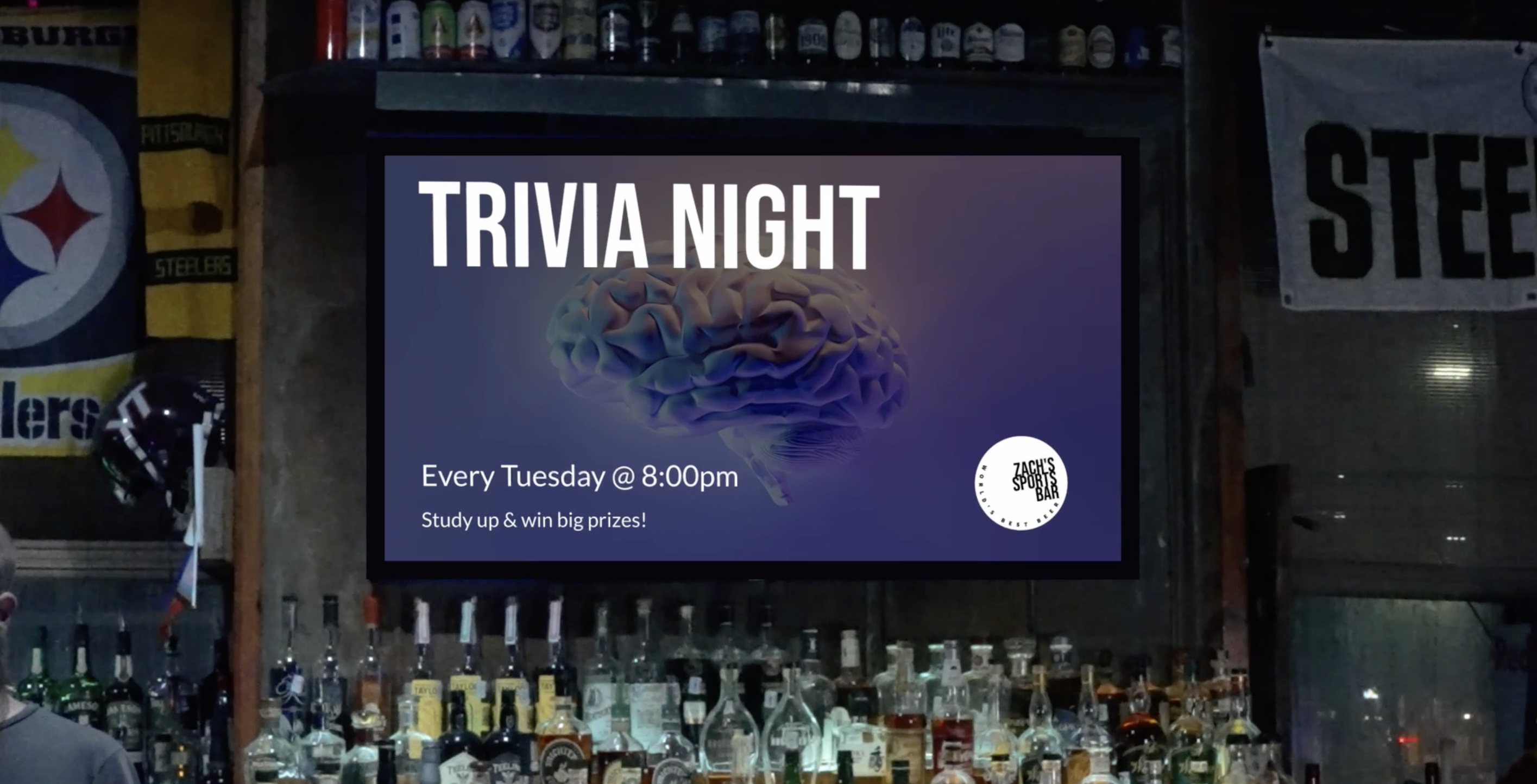 Constant Interactive Entertainment
One of the most straightforward ways businesses can engage customers is by playing Atmosphere Live Trivia channel. This new form of trivia gives guests the power to play on their terms. It enhances your collective dining and bar experience, while stimulating conversation among guests and inducing a more social and enjoyable atmosphere. Whether they're having a drink at the bar alone, waiting on food, or competing over a meal with friends, the channel's unique gameplay is specifically designed to allow users to engage as much or as little as they choose. The resulting increase in customer satisfaction and dwell time leads to boosted revenue, while helping you retain customers and expand your referral pool.
Hosting a Trivia Night
While offering passive trivia is a great way to engage your guests throughout the day, businesses can also create your very own trivia night with Atmosphere's all-in-one solution.
Promoting the Event: Use Atmosphere's pre-designed digital signage templates to advertise your trivia night. Schedule the promos to run on your TVs prior to the event to ensure that every guest who visits your business knows about trivia night.
Monetizing the Event: Run food and drink promos throughout trivia night to maximize revenue during the event. Scheduled promos will run during the commercial breaks between various rounds of trivia. For example, offer discounts on appetizers or create a 'Trivia Night Special' cocktail.
Incentivize Guests: Create prizes around your Atmosphere trivia night to keep guests engaged throughout the event. The thrill of competition and the chance to win prizes will keep them entertained and eager to play until the end.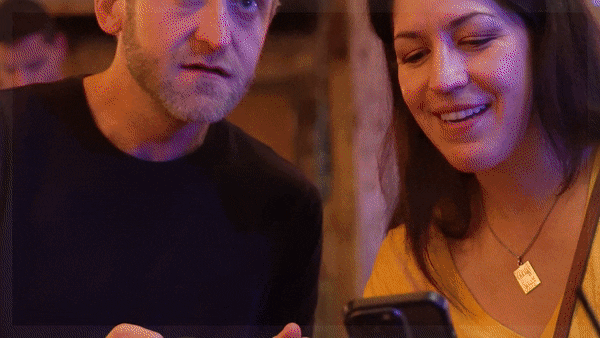 Beyond the Trivia Night
While trivia nights are a major draw, it's crucial to think beyond the event itself. Here are some ideas on how you can continue to engage customers:
Loyalty Program: Implement a loyalty program for frequent trivia participants. This could include discounts or exclusive offers for those who attend multiple trivia nights.
Collaborations: Partner with local businesses to offer joint promotions or prizes, increasing the appeal of your trivia nights.
Secondary Entertainment: Stream other Atmosphere channels like ChiveTV, Atmosphere Sports, or more to ensure that even the guests not participating in trivia have something to enjoy.
Join the Trivia Revolution
The world of trivia has evolved, and Atmosphere is leading the charge with its new interactive trivia game. So why not join the revolution? Experience the thrill of trivia like never before. Gather your friends, challenge your family, or engage your customers. Try out Atmosphere's innovative interactive trivia game today and witness the transformation of entertainment right before your eyes.
Elevate Your Space.