The Perfect Alternative to Live Sports
As a bar or restaurant owner, live sports should always be on your radar. After all, what's better (and more profitable) than a room full of sports fans cheering on their favorite teams with your delicious food and drinks? But there is more to a successful game day than simply turning on the game. Enhance the game day atmosphere that sports fanatics love while simultaneously creating a positive vibe for your customers who don't! Here are a few tips on how streaming Atmosphere as a complement to live sports can take your events and business to the next level.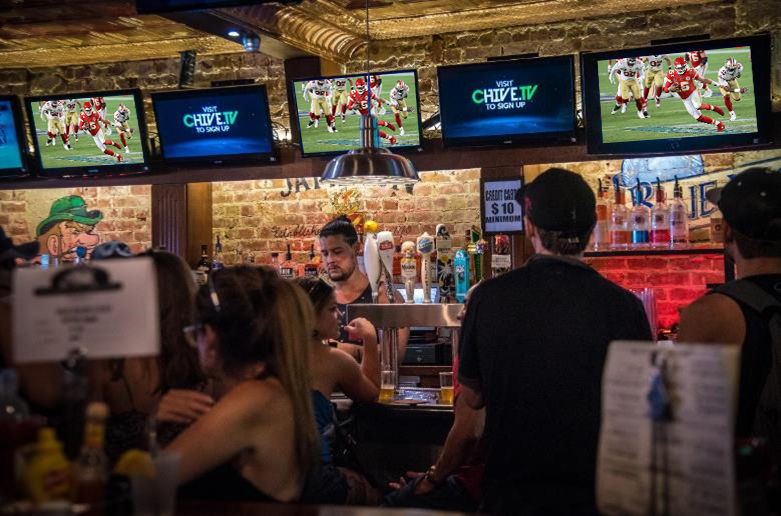 Entertainment for Sports and Non-Sports Enthusiasts
Live sports bring sports lovers together, but not everyone is a hardcore fan. By only offering sports during the big game, you are limiting your customer-base to fans during game-time.
Although some of your customers may be sports fans, they may bring their friends that are… less enthusiastic.
A local bar might see an influx of baseball lovers during a home-team game, but their ability to attract any other type of guest during the three hours is slim to none. Why? Because there is nothing for people who don't like baseball to watch! And if everyone there is watching the game, regular customers can feel out of place, uncomfortable, or excluded... so they simply don't go.
With Atmosphere at your disposal, you can keep your sports fans happy while increasing foot traffic from your non-sports fans at the same time. How? Atmosphere caters to everyone's interests by offering a variety of entertainment to play alongside the game. From hilarious viral videos to trivia, Atmosphere ensures that every customer is accounted for on game day.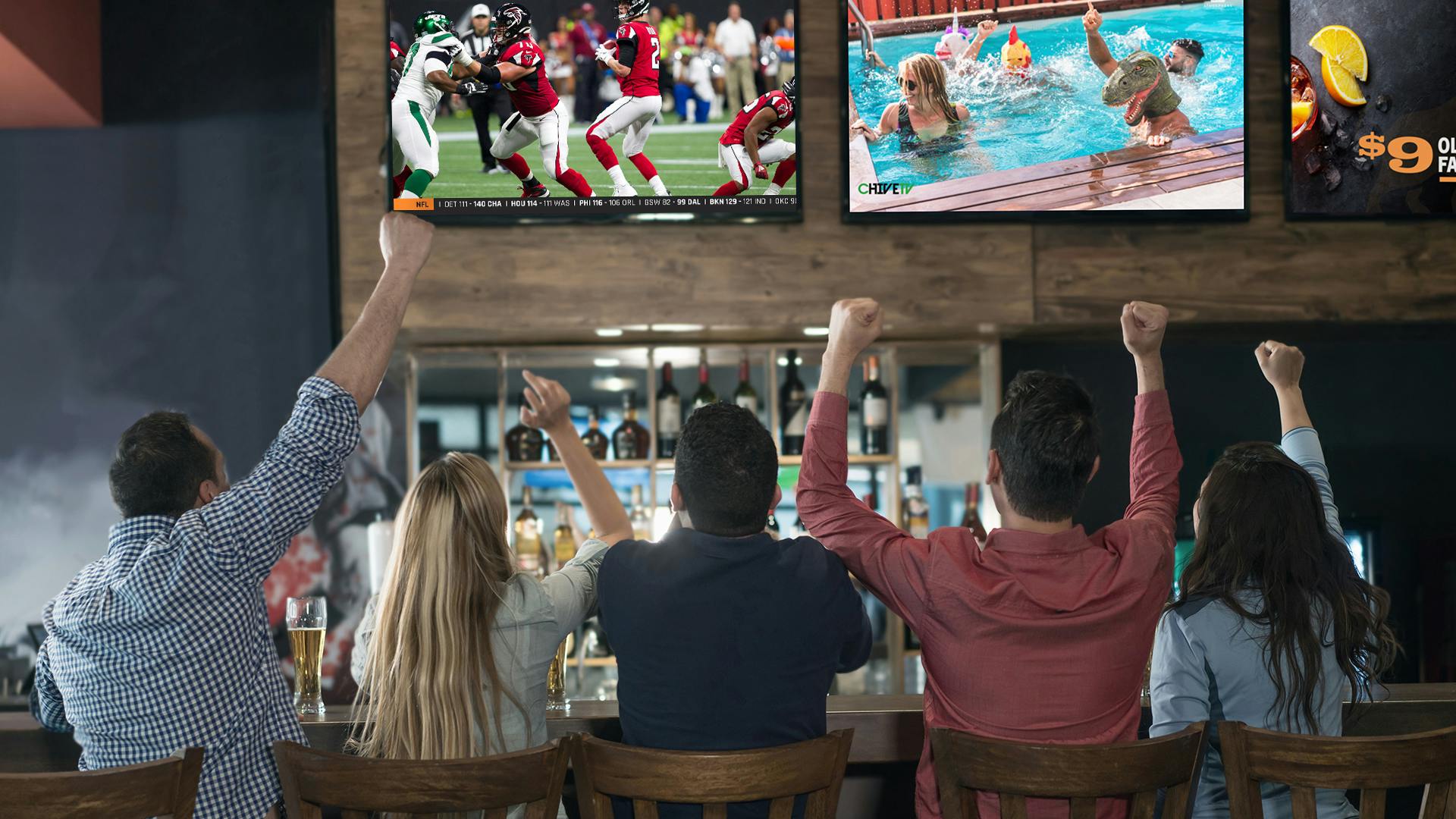 Promote Your Game Day Specials
With AtmosphereAds, you can run custom food and drink specials on TVs alongside the big game, promoting them when you know customers are watching. Just imagine, you own a Dallas Cowboys bar and the boys just won on a game winning TD. As customers celebrate the victory, your custom promo appears on the TV next to the game, "50% drinks if the Cowboys win." The only thing you'll have to worry about is keeping the bar stocked.
Breaks are Long. Attention Spans are Short
We've all been there; watching live sports and feeling like the game will never end. And let's face it, as much as we love our sports, it can be challenging to stay engaged throughout the event. With long pauses, commercials, and halftime, customers are more likely to start planning their next stop.
With Atmosphere, your sports lovers may stop thinking about how long the break has been because Atmosphere's short-form, viral content is the ideal entertainment between plays. True diehards can enjoy ChiveTV or Happy TV to alleviate pressure, while others can get a good laugh whenever the action starts to lull. Allowing your patrons to game against each other during commercial breaks and halftime can be the perfect way to keep them invested in the event and your establishment.
Atmosphere is the perfect wingman for your live sports events. Whether it's used for pre-game entertainment or specials during commercial breaks, this customizable streaming platform that your customers enjoy every minute they spend at your establishment and continue coming back for more. Atmosphere also cuts down on costs, so you can focus on other areas of your business and improve your bottom line. So, go ahead and try the world's #1 streaming tv service for businesses. You've got nothing to lose and everything to gain.