Let's dive into the dynamic world of sports bars, where sports, entertainment, and business strategy intersect. Whether your customers are a crowd of die-hard fans, casual observers, or simply people who enjoy being out with their friends, sports bars hold a special place in their hearts.
Beyond serving as a gathering place to cheer on their favorite teams, a sports bar with TVs offers a unique opportunity for marketing across screens to engage with your customers. In this blog, we'll explore the pivotal role of marketing in your sports bar, multiple TV setup instructions, and how strategically running digital ads across these screens can boost your business.
Read on to uncover the game-changing tactics!
Improving Your Sports Bar: Multiple TV Setup for Customer Engagement
You may know us for our viral videos and engaging channels, but our happiest customers are those who use everything Atmosphere has to offer. One of those tools is AtmosphereAds, an innovative digital signage platform that gives you the ability to run custom ads on your screens. In fact, bars with TVs who implement AtmosphereAds are far more likely to remain customers forever. Why? Because it is easy to use, and it works! Keep reading to see how our digital signage solution is changing the way that businesses do marketing.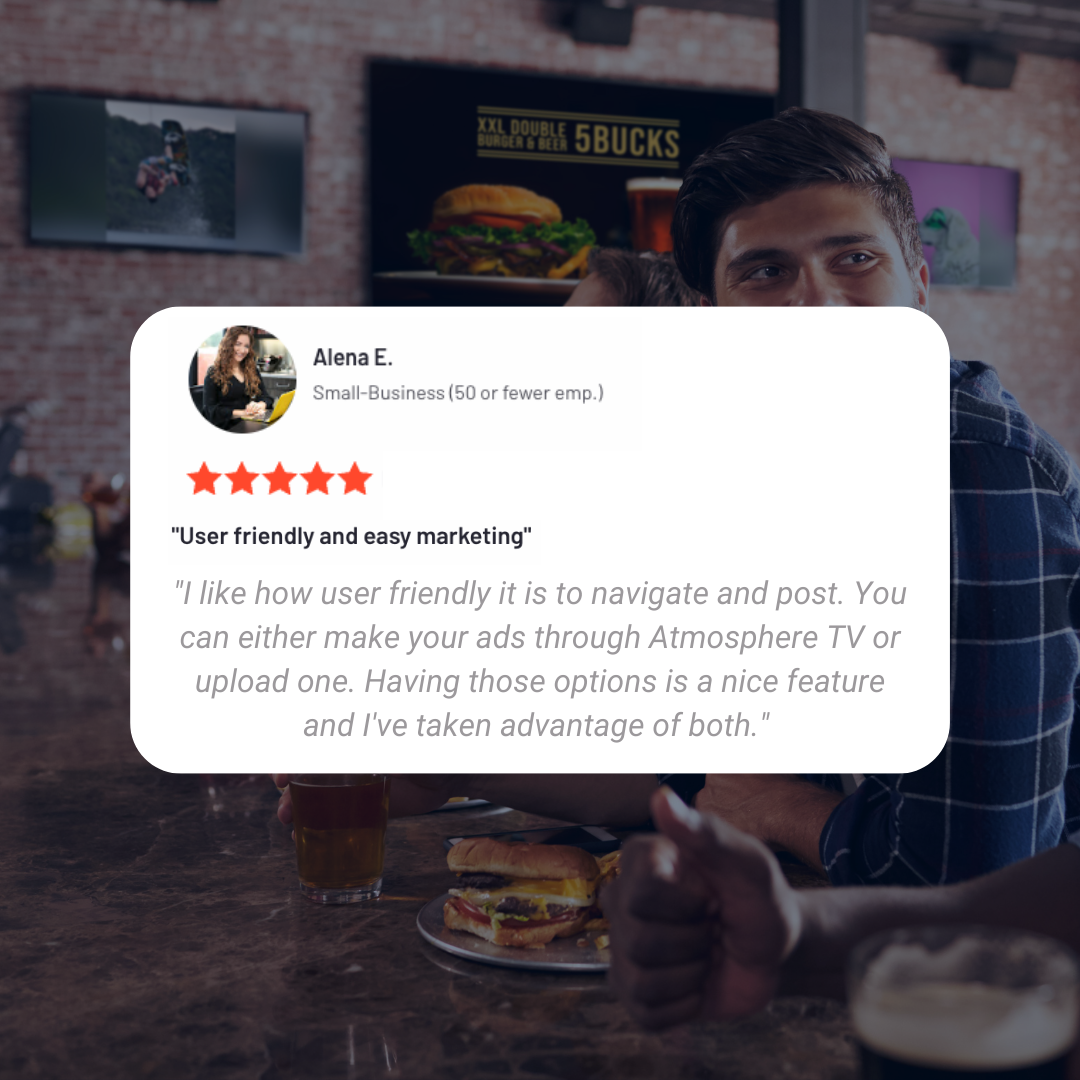 Stop wasting money on printed flyers and handouts.
With Atmosphere, YOU control your screens during the first spot of commercial breaks. A 30 second ad-block every 5-7 minutes of content to promote whatever you want. Offer discounts, delivery service, merchandise or even hiring opportunities, any sports bar with tv now has screens to control! And with options to use our predesigned templates or upload your own creative to your personal dashboard, bringing your ads to life is quick, easy, and free. Let our channels draw eyes to your screens so you can get the most out of every promotion.
Not sure where to start? Looking for inspiration? Keep reading for tips and tricks to monetize your sports bar TVs.
Tips From The Experts
Whether you're a sports bar or just a bar that plays sports, creating promos tied to the games at hand is an easy and effective way to boost revenue during live sporting events.
Regardless of your sports bar tv setup, you can monetize any game with custom promos like this: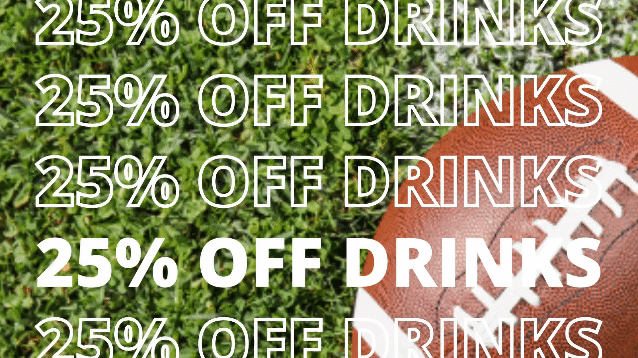 Promote Upcoming Events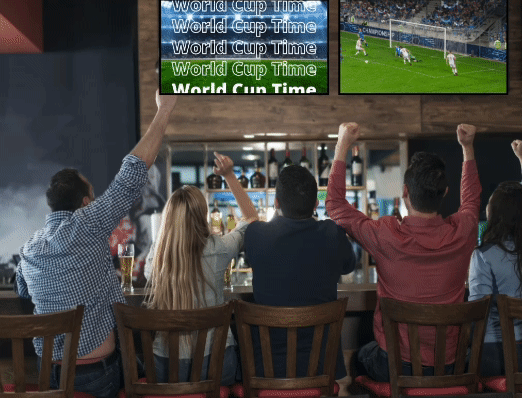 Get creative: Make your specials based on a team or player's performance!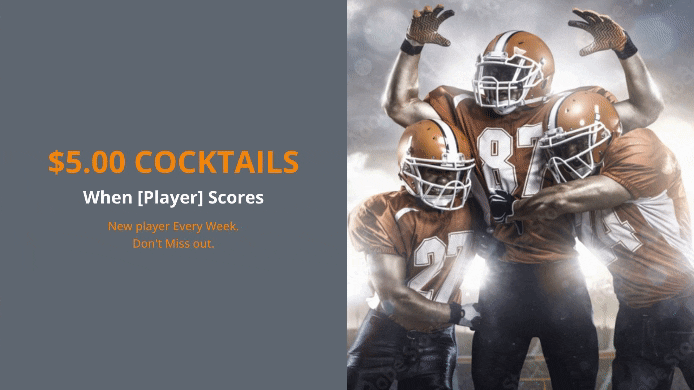 There is no better way to spark camaraderie in your business than by providing something that everyone can root for. Just think about it: Your bar's favorite team is playing their biggest rival. You have the game running on your primary screens and Atmosphere on the others. You notice that Atmosphere is catching the attention of your football enthusiasts during timeout breaks and even between plays, while also acting as the primary source of entertainment for your non football lovers. However, the reason you have Atmosphere on is to take advantage of its digital signage capabilities. Every few minutes, Atmosphere goes to commercial and alongside the live football game appears your custom promo: "50% off shots if [team] wins." What do you think will happen when the hometown favorite secures the W? Your customers will be celebrating like never before, and you won't be able to keep your shelves stocked.
3 Keys to Successful Promos
Schedule your promotions up to a week before the actual game so every customer who comes through your door between now and then knows about your game day deal.
Employ our easy-to-use templates to create eye-catching ads in minutes.
Include your business's logo and contact information to give it a professional look and bring customers back for more.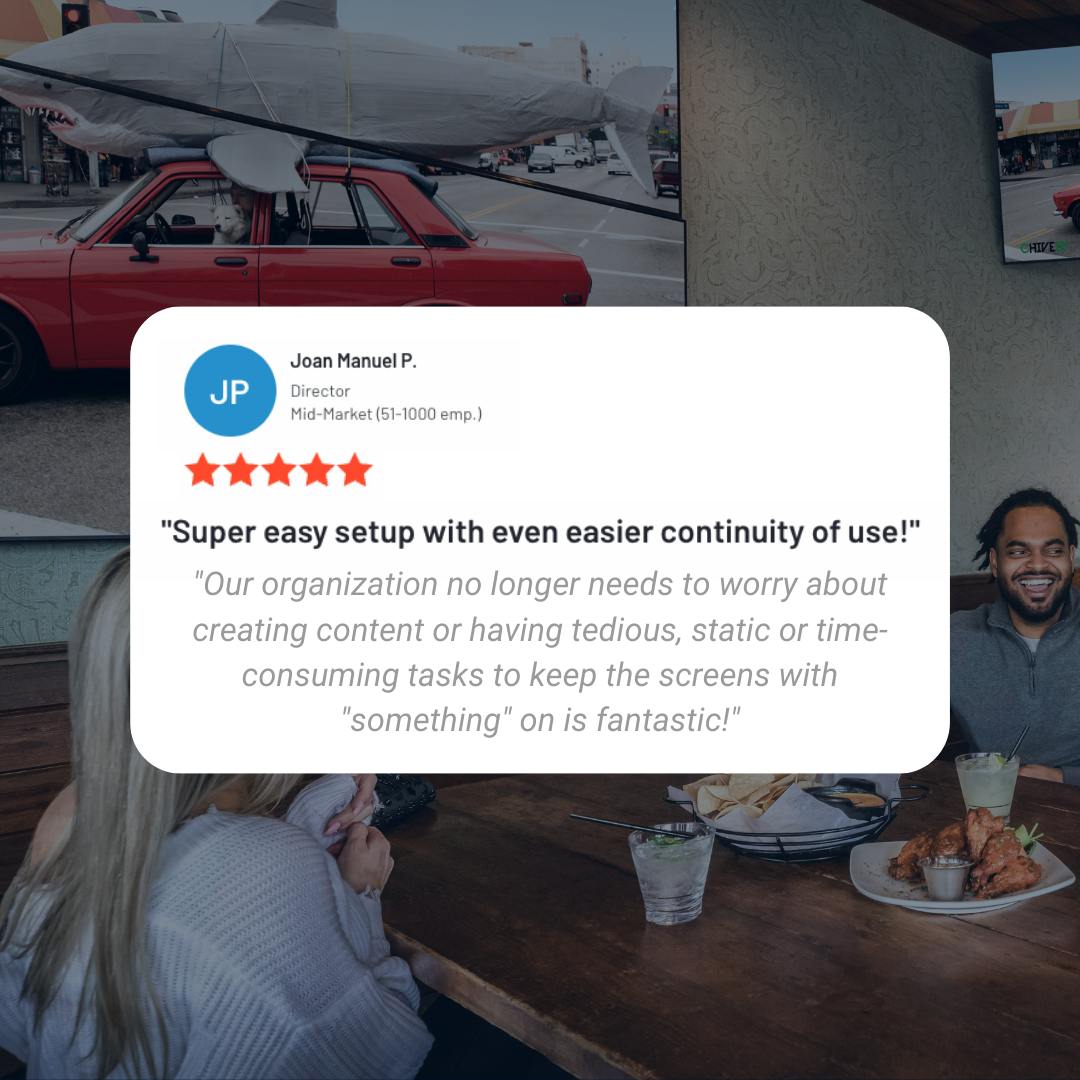 Football Season is Approaching
Discover how Atmosphere can enhance your customers' game day experience and be a catalyst for your business.
Better TV. Better Business.